Hi, my name is Hikma, I'm originally from Oromiyaa. Oromo people make up about a third of the entire population of Ethiopia. Over the past, several decades' politicians from other smaller ethnic groups have had authoritarian rule over the country thus causing Oromo people to be marginalized. To escape that harsh political climate my parents escaped to a refugee camp in Kenya to make their way to America. We moved to the United States when I was pretty young. I started elementary school at Pillsbury. I remember this one time we were learning about the life cycle of Chicken and...
---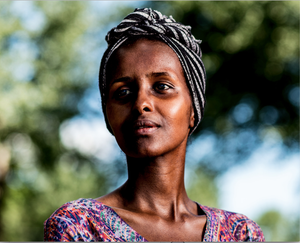 My name is Ifrah Mansour and I was born in Saudi Arabia. My family had just moved back to Somalia when the civil war broke out in 1991. Our world was flipped upside down.My family and I experienced civil wars, droughts, famine and refugee camp before I was the age of ten. No one should face what refugees experience. My family and I were lucky enough to come to America and get a second chance at life. I am also lucky enough to have found my calling in life.  While I was finishing college and preparing to be a school...
---
I'm the youngest of 9 in my family. We were at the park and I was told "Pack up and leave" and we got on the shuttle bus to the airport and get on the flight. I came to the US when I was 9 years old. It was very different, we came in May. I recall landing at the airport, and when we landed, somebody pointed out to a man standing in the middle and said "That's your father". It's my first time seeing my father. My first time ever. I'd never even seen a picture of him. When...
---
I immigrated to Canada as a refugee in 1999 when I was three, from war-torn Kosovo. Ever since then, Canada has been a safe haven for my family and I. Just like any other victim of the Kosovo war, we were deprived of our rights, freedom, safety, and happiness. Above all else, I lost my Father during the war, in the Gullobovc massacre. He will always be my greatest loss in life. While it has been and will always be difficult for me growing up without any memories of my Father, I know that it has been much more difficult...
---
My name is Nuni Omat and I was born in Nairobi, Kenya. I came to the US with my family, which was my mother and brother when I was only a couple months old.  My father was unable to come because of medical testing.  We arrived in South Dakota when we escaped to the US and stayed there for about a year.  Then, we moved to North Minneapolis shortly after. The reason why we fled was because of war in Kenya.  It was raging on brutally and my mother made the decision for us to leave the refugee camp.  She...