My name is Elham. I am originally from Ethiopia, the northern part of Tigray. I came to the United States with my mom as a young child. I came here to build a better life with my father, who was also here. But growing up, some obstacles as a refugee and immigrant are language barriers for sure. There is prejudice that you deal with, especially in the school system and how I dealt with it. I really looked and leaned into my teachers for resources and also my parents, some stereotypes that I dealt with where that we're uneducated, we're...
---
My name is Mukhtar Dahir. I was born in Somalia and I am a former refugee. My story is a little bit different because I didn't directly come to the U.S. My experiences were secondary to my parents and siblings. When we fled from the civil war in May 1993, we came to Canada and I was 1 years old. From there, I've established myself and arrived in the U.S a few years ago. I came with my two parents and 4 older siblings from Somalia to Canada and landed in Toronto. Although I was a baby, I didn't realize...
---
My name is Novia Josiah-Isaac. I'm a Karen former refugee, and my parents are from Burma, but I was born in and grew up in Thailand. My father arrived here first, because he came as an asylum seeker before we arrived, and then he sponsored us two years after that. Then we came here. As you know, the political situation in Burma right now is not good with people trying to fight for democracy. Even 70 years ago, the Karen people were being oppressed, a lot of Karen have become refugees because of the oppression that they experienced, including my parents. I...
---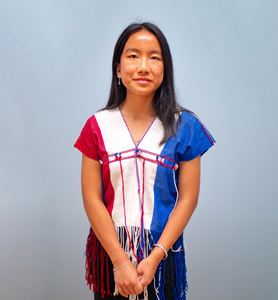 My name Ku Mo, I came from a refugee camp in Thailand, so I am Karenni. That's an ethnic minority from Burma. I came here with my family, and we came because we lived in a refugee camp, and of course, my parents wanted a better life for us children, to get more experience and education. Because back then all we had was our own Karenni community, we had to make our housing, our school. And it was the United Nations that offered the Karenni refugees an opportunity to immigrate to the United States. There were other countries, but my...
---
My name is Fatima Molas. I am from Somalia. I've been in the U.S since 1998 from Kakuma refugee camp. I was a teenager when I came, about six-teen years old. I first landed in Arizona with my family. At that time, we were sponsored by the Red Cross. It was very interesting because we were in an apartment full of refugees from all over the world and it was a moment of happiness. Seeing people all over the world and we all had the common goal to provide for our families. Coming to the U.S I had so much...