My name is Mohamed Abdulkadir , I came from Somalia. I came here 1994. The reason I came here was the civil war happening in my country. That civil war was so bad that we could not stay in our homes, so we fled to neighboring country Kenya. I was there for almost 3 years when I got the opportunity to come to the U.S. It was strange. I didn't know what to expect when we arrived. There were people waiting for us at the airport, and they took us in a huge bus, we were about 21 people together....
---
My name is Obsa Hassan, a father of two boys and married to Aisha Oromia Ali. I first came to the US in 1999 from Oromia, one of the nine states in Ethiopia. I came through Kenya with family members and settled in Columbia Heights, a suburb of Minneapolis. I started out from 10th grade here and graduated from high school in 2002 and went onto University of Minnesota. It was a cultural shock for me. When we first moved from Oromia to Kenya, at least the Borana Oromos of Kenya spoke my native tongue Oromo which is widely spoken...
---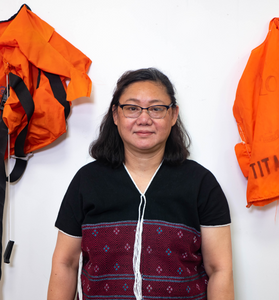 My name is Maylary Apolo. I was born in Burma/Myanmar. I lived there for 20 years and then lived in a refugee camp for another 20 years. Due to the 1988 Uprising, I had to flee out of Myanmar. We had no other way of transportation but to walk through the jungles. While escaping the brutal military, I caught on a disease called Malaria. The trip took over 2 months walking to get to Karen Revolution. After 10 months, the Burmese military troops came and attacked the village. Then, we moved to refugee camp Called Mae La. Mae La camp...
---
My name is Armin Budimlic, I am originally from Bosnia and Herzegovina, and I came as a refugee with my wife and two children to the US on June 8 of 1994. That was during the war in Bosnia, and at the time my children were 3 months old and 5 years old. We came as a direct result of what happened in former Yugoslavia and the war in Bosnia. Prior to me coming here, my brother, his wife, my sister, and her husband arrived, so we were brought together as a family reunification. Well I felt great upon arrival...
---
Thank you very much for this opportunity. My name is Oballa Oballa, I was born in Gambela, Ethiopia, and in 2013 we moved to America here but before that I was a refugee in Kenya, so I fled Ethiopia due to genocide in Gambela and we sought refuge in Kenya. So we lived in Dadaab for almost 10 years. The trip was long, as a refugee in Kenya it took us almost 6 years for our resettlement to be approved, we had to go through every process, so the department of UNHCR gave us the resettlement, then we got an...