Refugees are people who have been forcibly displaced from their home country and are seeking a better life elsewhere. As per stats, they currently number more than 25 million people.  Refugees often have no other option but to leave their home country due to many reasons outside of their control. It's estimated that more than 37,000 people are forced to leave their home due to conflict and persecution per day. To understand how to help refugees, one needs to understand why people become refugees in the first place. The causes differ from country to country, however, there are a few...
---
The complexities of the US immigration system can make the thought of moving to the U.S. seem complex and downright impossible. The United States government has to ensure that immigration law strictly monitors and controls the number of immigrants who come into the country each year. The often artificially stringent laws are in place because of the sheer magnitude of people around the world who want nothing more than to move to the land of the free and home of the brave. With growing tension between political parties in the United States and paranoid isolationism among some, immigration laws are...
---
Never before in the history of human migration have so many refugee crises in different parts of the world occur simultaneously. Including the displacement of millions of Venezuelans, Syrians and Yemenis fleeing their war-torn country, African migrants crossing the perilous waters of the Mediterranean Sea for safe haven in Europe, the world is awash with one refugee crisis after another.  In addition to these multi-national crises, smaller and more isolated refugee crises occur including those in Bangladesh and Myanmar. Political unrest is the primary reason people seek asylum in other parts of the world, but that's not it.  Natural disasters...
---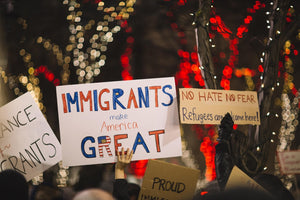 There are many reasons why a person might leave their home country and seek to make a new life in a different one. The general public has a tendency to refer to these people by any of a number of different words, including "refugee," "immigrant," "migrant," "and "asylum seeker." However, there are crucial distinctions between the definitions of these terms, as well as the life experiences of the people who fall under each category. This article explains both. What is an Immigrant?  An immigrant is any person who moves his or her country of residence from one country to another,...
---
With many global conflicts that are lasting decades, this has resulted in exponential growth of refugees looking to find safe havens away from the dangers of war and conflict.  Many countries have opened up their borders to asylum seekers while others have helped support refugee camps to house individuals until peacetime.  In either case, a refugee crisis is real and happening, so here are ways one can help: Stay informed Staying informed about the recent developments related to various refugee crises can be the easiest and first step towards helping change happen. Read up on popular reports such as the...